This comprehensive superannuation guide has been developed in order to help those in need of clarity regarding superannuation.
Topics covered in this Guide To Superannuation.
What is Superannuation?
The Benefits of Superannuation
The Importance of Superannuation
Using Your Superannuation Fund
Understanding Self-Managed Super Funds
Finding A Financial Advisor
Planning Your Superannuation
1. What Is Superannuation?
Superannuation is a topic of great importance to all Australians working toward retirement, but knowledge of the subject is still relatively limited. This leads to people miss out on money that compounds and greatly benefits their future.
Managing your superannuation fund will allow you greater flexibility later in life, and the earlier you start, the greater the improvement will be.  Superannuation comes with a wide range of advantages, including a lower tax rate and employer contributions.  It can also be a safe, reliable investment that will allow you to put your money away with peace of mind.
As the success or failure of your superannuation fund depends on your financial decisions, it's important to choose one that you can trust to increase the value of your money and to help you achieve your financial goals.  The process of planning a retirement fund and finding a way to make it work for you takes place over a lifetime, and the best financial planners constantly review and adjust their approach.  That's why it's important to plan, implement, review and readjust as necessary to ensure you're on track to achieve your financial goals.
This article will give you a starting point to work from as you make these important decisions that will affect you for the rest of your life.  Whatever your age and your financial situation, you should start considering your superannuation options now.
Every day spent prolonging a purposeful plan takes away from your advantage in the future.
2. The Benefits of Superannuation
If you approach your superannuation fund correctly, it can allow you to retire comfortably at a reasonable age.   This is why it's so important to start thinking about retirement as early as possible—the less of your salary you have to start contributing, the easier the transition will be.  If you wait until you're forty years old to address your super, you'll likely have trouble paying enough to build up the retirement fund you want.  That's not to say the ship has sailed if you are over 40, it just means you'd have been in a much more advantageous position had you started earlier.
If you're like the majority of Australian workers, you're probably under the impression that your employer's contribution is enough to fund a superannuation account.  While employers are required to put 11% into your fund, that won't end up being enough for a sustainable retirement fund.  Some experts recommend putting 12% of your own salary into your super starting at age 18, but if you're making financial plans at a later age, it may be wise to start contributing more.
Minimising Tax
Contributions to superannuation funds are taxed at a substantially lower rate than other income, further incentivising retirement planning from a young age.  For every dollar you make in a year over $37,000, you're typically charged 32 and a half cents. If that money is put into a super account, however, the tax rate is only 15 cents per dollar.
Contribution Limits and Interest
Due to the significantly lower taxes associated with superannuation, the government limits pre-tax yearly contributions to $25,000, including the 9.5% you receive from your employer.  That means, for example, that if you're making $100,000 a year, you'll get $9,000 from your employer, and be able to put in an additional $16,000 until you reach the cap.
Additionally, since the tax rate applied to that $16,000 would be much lower than that of the rest of your income, you would be able to gain significantly more interest and gains, especially over a long period of time.  This is another reason to start contributing to your superannuation fund as early as possible—the money you put in continues to gain value over time.
It's Never Too Late
Even if you're older and haven't begun putting money into a super, there are still plenty of reasons to start making progress.
Once you turn 50, the $25,000 limit becomes $50,000, giving you the opportunity to invest even more into your future with increased tax savings.  Another factor is the pension provided by the government to those over the age of 65.  While it's not enough to live on comfortably, it can be an important piece of a strong retirement plan when combined with other smart financial decisions.
The maximum pension available to people over 65 is $794.80 every two weeks, which is significantly lower than you can achieve with a super fund, but still a significant number.  However, you should be aware that your exact pension may be lower depending on your income, other investments, and other financial factors.
To help you visualise your retirement future, the Australian Securities and Investments Commission offers a calculator which will show how much you can save based on your unique financial situation.
By comparing the various options, you'll gain a better understanding of what is best for you.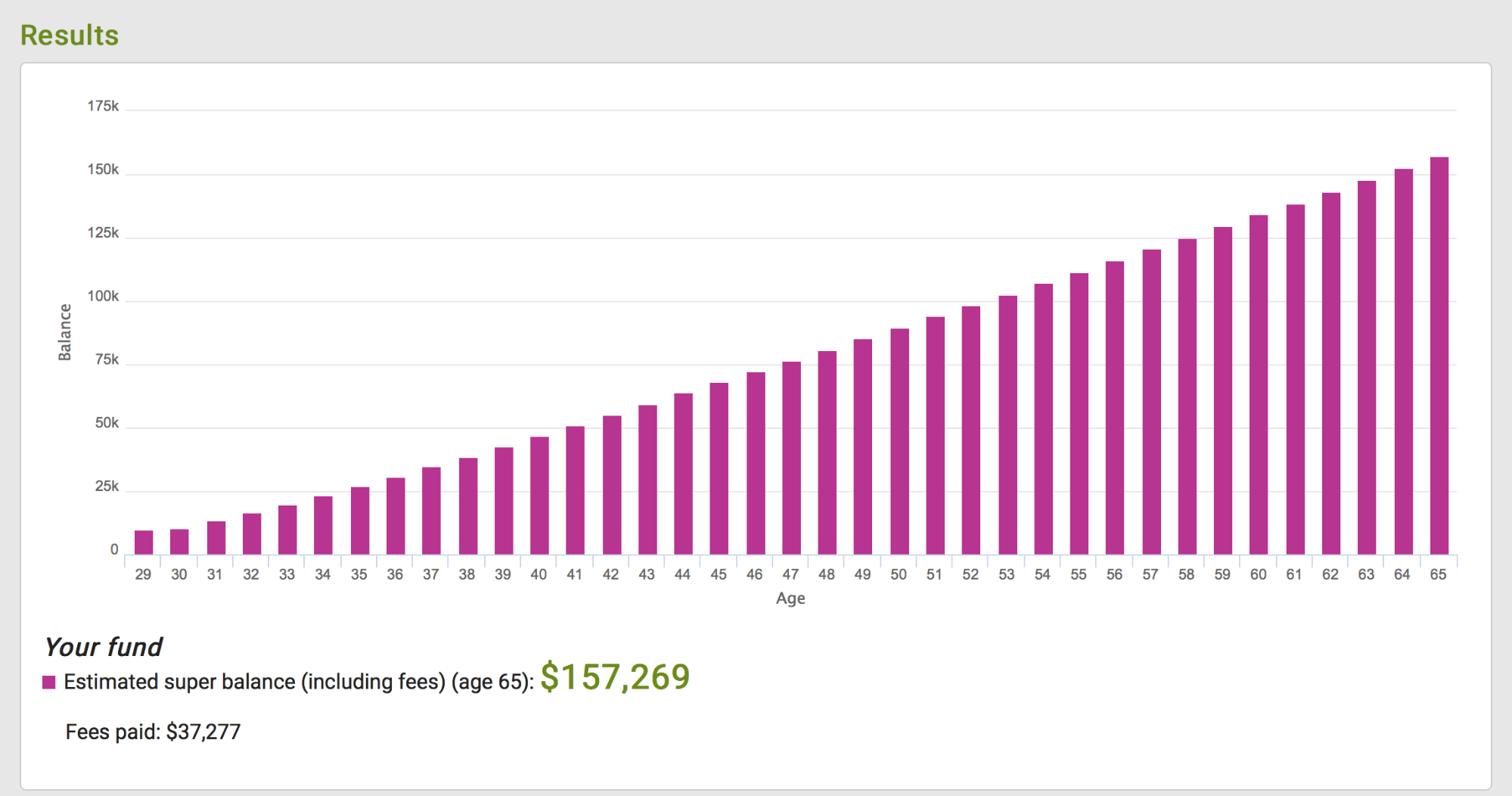 3. The Importance of Superannuation – Why Should I Care About My Super?
It's common for people to assume that their employer's contribution to their super account will be enough for them to comfortably retire.  This isn't always the case, and the best way to approach your retirement fund depends on your living situation and how you envision living once you're retired.  It's important not to take your retirement fund for granted, but rather to take active control over it as soon as you can.
The ASFA Retirement Standard recommends a lump sum of $545,000 for couples looking to retire modestly, and that number jumps to $640,000 for those intending on a more comfortable retirement.  If taking on your retirement seems daunting, you're not the only one. If you're looking for assistance, our financial planning services give you the help you need to reach your financial goals.
We have the experience necessary to understand how to approach retirement and financial planning in general, and we'll work with you to come up with a plan based on your individual financial situation and long-term goals.
Setting Clear Goals
Everyone wants to retire comfortably, but very few people actually work out what that phrase means for them. If you're ready to take your retirement planning more seriously, you need to take a look at your income, financial situations, and long-term hopes.
Evaluating what you want out of a superannuation fund is key to success. Superannuation is one of the elements to your financial planning strategy that should be based around achieving what is important to you.  Retirement goals look different to each person and could be living in a house by the beach, restoring old motorbikes on acreage or living in a suburban home close to the grandkids.  It's once you've worked out what the goal looks like to you, you can then begin to assign a monetary value to the goal and work your calculations from that.
One of the easiest ways to set goals is by determining exactly how much money you want to have available when you retire, and then how much you need to save in order to achieve that.  By reverse engineering your superannuation plan, you'll make sure that your current contributions and investment strategy are enough for what you need.
You may be surprised by how much you'll need to set aside in order to reach the savings number you're trying to achieve.  While this may be a rude awakening, it's important to start adjusting your financial habits as soon as possible—the longer you wait to start saving money, the more difficult those changes will become.
Evaluating Risk
All investments come with a certain amount of risk. Depending on your goals and your aversion to risk, some investments are more suitable than others.  It is important to ensure that your superannuation and retirement strategies are tailored to your personal situation.  This is where it is critical to have a superannuation and retirement professional working with you to ensure the maximum probability of achieving your financial goals.
Another element to consider when it comes to evaluating the risk of your superannuation strategy is the timeframe of your goals.  If you're wanting to access your superannuation within a couple of years it would be recommended to avoid higher risk investments.  As there is less time to ride out any market fluctuations it would be wise to minimise the chance of potentially losing part of your retirement nest egg.
With that in mind, it's easy to see the dangers of placing your superannuation into the wrong fund. While many people are tempted by the promise of high returns, your top priority should be long-term reliability and safety as you work towards your financial goals.  Currently, successful funds often lose momentum quickly, so you should avoid making snap decisions based on short-term trends.  This is known as recency bias, which is our tendency to believe something is more likely to happen again because it has recently occurred.
This coupled with the fact that past performance is not a guarantee of future performance means you need to remain impartial and gather all the information you can before making decisions about your superannuation fund.
After you've selected your superannuation fund, a critical factor in the fund's success is the asset allocation and the risks and rewards associated with the different investment assets.  Most super funds have a lot of options to invest in and depending on the fund your investment allocation can include, cash, bonds, mutual funds, managed funds, stocks and index funds.
4. Using Your Superannuation Fund
In spite of the massive impact a person's super fund can have on their financial future, most Australians don't know where their super is, nor how they can achieve a greater return.  Often, the first step to using your superannuation more effectively is if you have multiple super funds to combine them into one.
If you've got multiple superannuation funds it is highly likely that you'll be paying multiple sets of fees. By consolidating them into one account you'll be paying the one set of fees and will have the added benefit of the combined money working together for your retirement.
Simply becoming aware of how superannuation works and how it can affect your life is an important step toward adjusting your financial planning. The majority of people are also unaware that their super balance can be used to pay for a wide variety of costs including life insurance, income protection, and financial advice fees. In fact, over $13 billion goes lost or unclaimed in Australia every year.
5. Understanding Self-Managed Super Funds
As mentioned above, you do have the option of managing your own super fund. Whether this is something you'll be interested in will likely depend on a range of factors.  Knowing more about the pros and cons will help guide your final decision and put you on the right track either way.
As the director of your own fund, you'll be responsible for much more of the legwork, compliance, and liability than you would be in a normal super fund.  Among other things, you'll need to keep records and prepare for audits, create your own strategy for investing, and spend significant time researching and managing the fund.
There are, of course, unique advantages only available to those who run their own supers. In addition to the higher level of control that comes from being in charge of your money, you also have more investment options, including commercial or residential property.  If you're willing to take on the added responsibility, you'll also find yourself responsible for far lower fees.
For more information on Self-Managed Super Funds and the service our superannuation advisors offer, visit our SMSF Advice Page.
6. Finding a Financial Advisor
No matter how much independent research and planning you do on your own, there's no substitute for advice and assistance from a qualified financial professional. Our superannuation and financial advisors have a developed understanding of the laws, regulations, and they'll be able to help you create an achievable plan to help you reach your goals.
Here at My Wealth Solutions, we make your financial success our top priority and do everything we can to turn your goals into a reality.  We believe it's important to make the complexities of financial planning simple and tailor your plan to your unique situation and needs. Our experienced financial advisors are ready and eager to help.
7. Planning Your Super Fund with Us
We can give you the tools you need to set yourself up for long-term financial security. Our expert team of financial advisors can help you understand your choices and what is best for you and your goals.
Among other things, here are some of the main benefits you can expect from our superannuation advice services:
Improve your understanding of how your super fund works
Most people are unfortunately terribly uninformed on the topic, and with more knowledge about the process, you'll be better prepared to make the decisions that can have an impact on the rest of your life.
Guide you through the process of investing
While a super fund can be incredibly helpful on its own, you can turn that money into more money by investing it into a profitable, low-risk fund. Our financial experts know which investment options are suitable for your goals and aversion to risk.
Help you set up your own super fund
Some people prefer to be in charge of their own superannuation fund, which means they're responsible for much of the compliance associated with taxes and other laws.  On the other hand, this option gives you greater control over your money and removes the need to pay fees to the manager of your account. If this is something you're interested in pursuing, we can give you a head start on the right track.
Find your lost super
As we mentioned earlier, there is over $13 billion in lost superannuation money within Australia—more than $500 per person.  Many people have lost super money without even knowing it, and this can be worth hundreds, if not thousands of dollars. Our experts can help you locate and claim your missing cash.
Improving performance
Above all, our goal is to make your superannuation fund work for you. There's a lot of red tape and fine print involved, but once you're in control of your financial situation, your fund will become an important piece of your long-term goals, rather than something you avoid or don't know much about.  By increasing your yield, helping you plan, and guiding you through the process, we can make your financial goals a reality.
Start Planning Today!
While there are a wide variety of factors that can affect your superannuation fund, the single most important one is time.  The earlier you get started on your financial planning, the easier it will be to implement changes and achieve your goals.  No matter how old you are, the best thing you can do for your future self is to start planning your retirement.
Of course, there is much more to superannuation and retirement than we can cover in this article. Hopefully, you've taken away at least a basic understanding of how superannuation works and how you can use its principles to your advantage.
If you're ready to start seriously investing in your superannuation fund, there's no reason to wait.
Our superannuation services are engineered to give you the maximum amount of benefit, and we have financial professionals who are ready to work with you.